Creation Of Big Blue Fast & Reliable Plumbing Services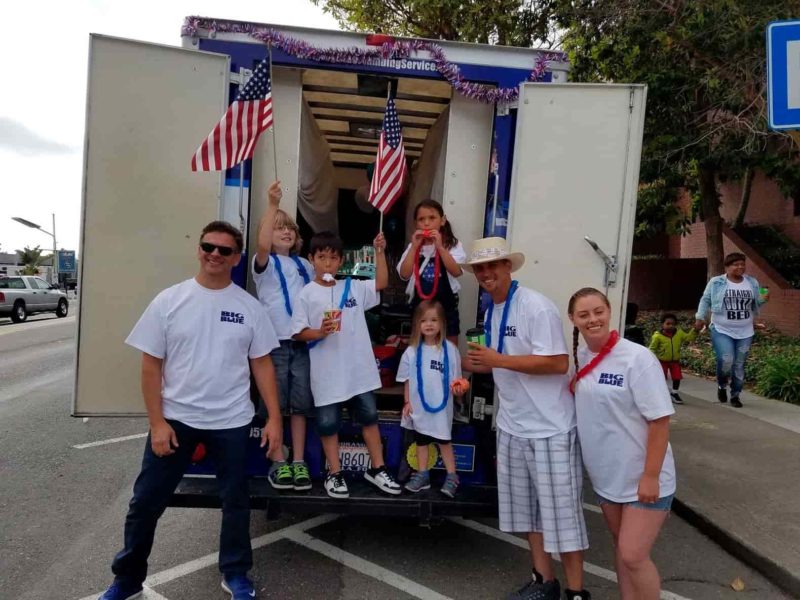 One of the important things that I learned by working for other contractors is that most of the so called plumbers operating today have little or no formal training in plumbing. Most plumbers learned the trade by following another plumber, which is fine as long as that plumber knows the right way to do it. I am frequently appalled by the lack of real plumbing knowledge that I see in people operating in the area. At Big Blue Plumbing we train in the office and our warehouse training room. We train on code knowledge, pipe sizing, materials, water heater service, repair and installation. We train on plumbing essentials and hydronic heating. We also do background checks on all our employees, we believe that while all people deserve a second chance, if they have been convicted of a felony, they are best suited to getting that second chance in a position that is not in a persons home or around their family. We also perform drug testing.
All of our technicians carry the Technicians Seal Of Safety and we recommend that homeowners look for in home service providers that carry this seal for all their home service needs.
I started working for my father, when I was 15 years old. I actually started in the office doing heat loss calculations and building envelope drawings on the drafting table. I then began working in the field and going to Southampton Technical College as part of a London Institute City and Guilds Apprenticeship in plumbing and hydronic heating. That was back in Nineteen Something- Or Other. I migrated to The U.S. in 1996 and started my own business in 2000.
My Father's company was called Dramont LTD which he named after a small Mediterranean island where my parents spent their honeymoon. My Father told me that he liked the idea of being reminded of a happy time and place, every time he went to work.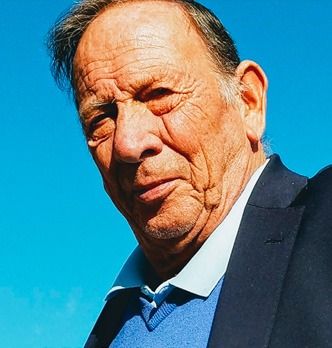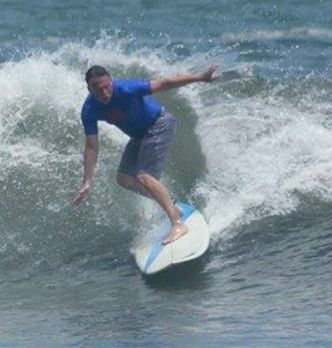 When I started my own company, I followed my Father's direction and named my organization after the sea which, as a surfer, is my happy time and place, hence BIG BLUE and the logo that incorporates the ocean.
My Father also gave me this piece of advice: "Son", he said, "How you do one thing is how you do all things". To me this means the pursuit of perfection in all that we do.
I moved to America in 1996, I worked for a couple of plumbing companies and started my own business in 2000. I started a small, one truck operation out of my converted garage. I quickly grew a reputation for quality, integrity and reliability. From the local contractors I worked for, I learned a few things, some good and some bad and, along with my father's influence, I have always known that I wanted my plumbing business to stand out from those around me for professionalism. As my client base grew, we moved out of my garage and in to a small place behind a cafe in Berkeley. Our reputation continued to spread and now we have a facility in Alameda with office space, warehouse and training room.
Providing the Highest Standard Every Time
Call Us 24 Hours A Day

Best Guarantees & Warranties

Service All Makes & Models

Always Punctual

Team of Certified Plumbing Experts

No Overtime Charges

Full Home Plumbing Inspection
The Big Blue Plumbing Team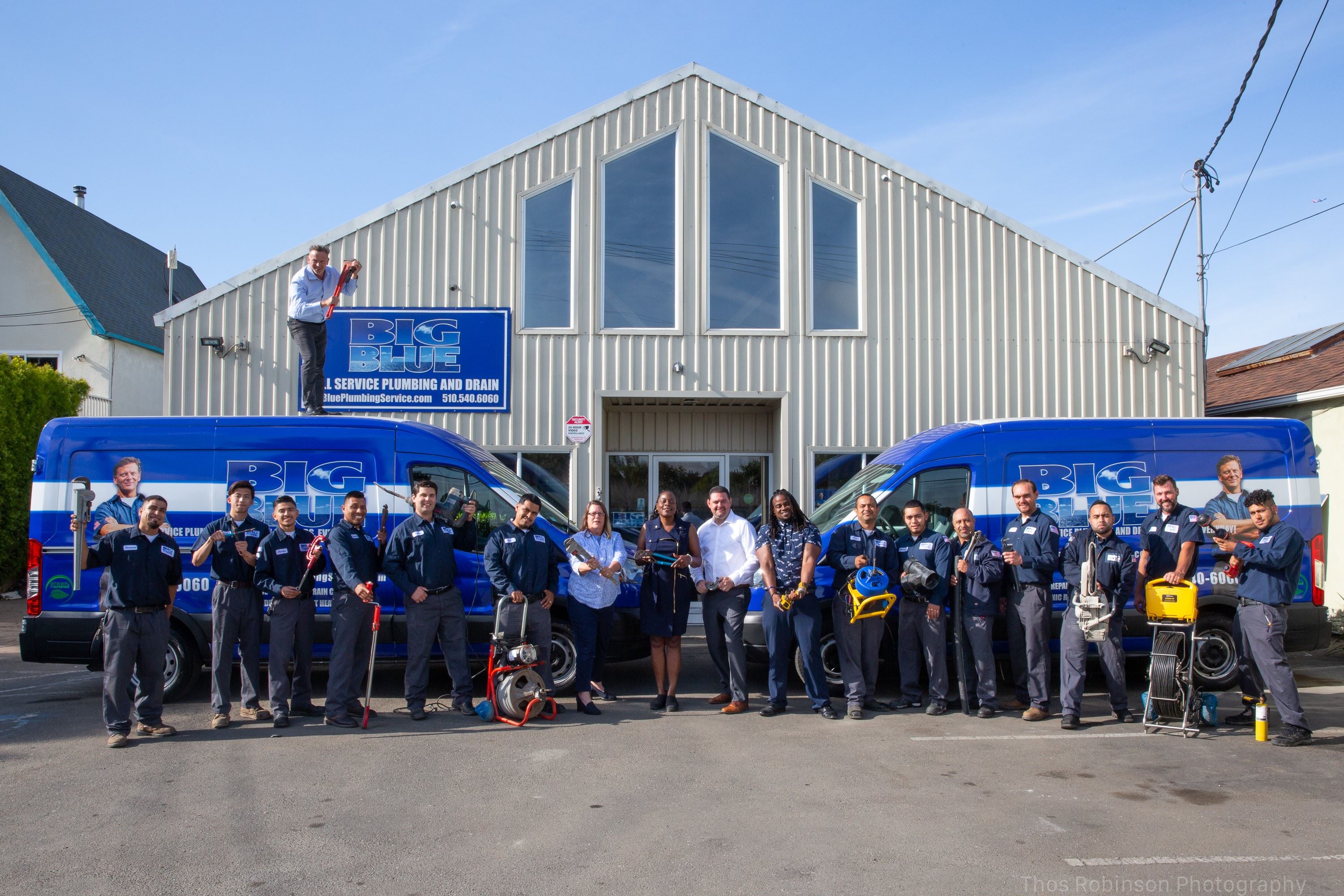 Another thing that I have learned from working for other companies that I strive to avoid is a feeling of division within the organization. At one plumbing company that I worked at, there was open warfare between the technicians, the customer service representatives and the management with each faction continually blaming the other for the issues within the company. Not only was this an unpleasant place to work, it also lead to an unpleasant service experience for the clients. Big Blue Plumbing is a team. We are a family. We make mistakes, we get over it. We try to understand each others roles within the company and work to be better as a whole. Richard Branson, founder of Virgin Atlantic, says, "take care of your employees, they take care of your clients". We believe that if we want happy clients, and we do, then we must have happy employees. The employees that we have here are the type of people that enjoy our type of work environment, I think it shows in the level of customer satisfaction that we generate. We promote this type of experience with family and community involvement including annual trip to the pumpkin patch, company surf outing, beach clean ups and spartan challenges and more. It's a good time.
I had an emergency plumbing issue, Big Blue was there in 15 min. and he did some good darn magic.

"Giovanni was awesome. I had an emergency plumbing issue, Big Blue was there in 15 min. and he did some good darn magic. Thank you!"

- Mark W.

Protects Property

"Very professional, hard worker took the time to protect my property"

- Richard B.

Jack did an excellent job.

"Jack did an excellent job. Came in assess the problem, explained it to me clearly and complete the job in a professional manner. Great representative for Big Blue"

- Bruce B.

Nick from Big Blue diagnosed the problem and ordered the replacement part in no time.

"Very knowledgeable and ordered the replacement part quickly so my tenant can have heat once again. Called a bunch of different companies but none of them work on hydronic air handlers. Highly recommend them for hydronic heating"

- Robert C.

Highly Recommended

"Javier came promptly and did an excellent job on our garbage disposal and toilet. Highly recommended."

- Mary U.