Hydronic Radiant Heating Fast & Reliable Plumbing Services
Oakland Hydronic Radiant Heating Services
Reliable Heating Repair & Installation Services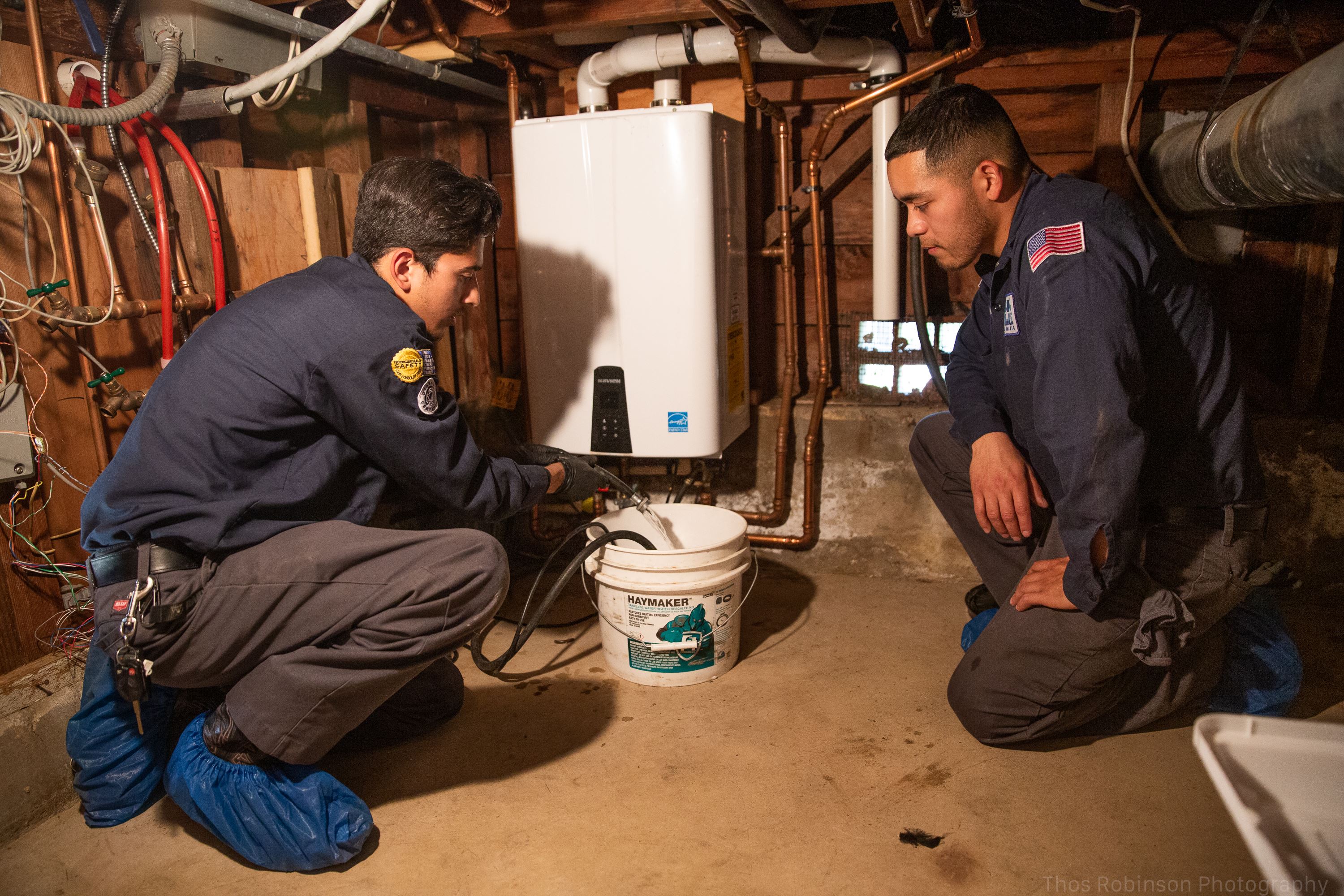 When it comes to heating your home, you have many options. Not all options heat in the same manner and different types of heaters offer various benefits and drawbacks. Many homes have traditional furnaces that offer forced hot air that will dry out your home, bother your sinuses, and even cause damage to your furniture. Radiant heating offers a different approach to heating your home, and Big Blue Plumbing is thoroughly experienced with these units.
Radiant heating keeps your home warm by heating tile and wood floors from the ground up. They don't use fans or blowers and minimize wasted energy. Our Oakland hydronic radiant heating plumbers can install, repair, and provide maintenance for your heaters so that you always remain comfortable.
The benefits of hydronic radiant heating include:
Decreased utility bills as a result of increased efficiency
Ease of operation
Minimal required maintenance
Space savings as a result of not having radiators on the walls
Elimination of cold spots in your home
Of course, there are also some drawbacks to these units. Radiant heating requires:
Higher installation costs
Longer installation time
Raising the floor height by up to ½ inch
We also have experience installing dust- and allergen-free styles of heating units.
To schedule a service with Big Blue Plumbing, give us a call day or night at (510) 939-7870 or fill out our contact form!
Providing the Highest Standard Every Time
Call Us 24 Hours A Day

Best Guarantees & Warranties

Service All Makes & Models

Always Punctual

Team of Certified Plumbing Experts

No Overtime Charges

Full Home Plumbing Inspection
When It's Time for a New System
When your heating system in your home or commercial property fails, it's imperative that you find a solution in a timely manner. Your space can become uncomfortable quite fast when you don't have any heat. Big Blue Plumbing can certainly help. Our highly trained and certified technicians have a vast knowledge of the various kinds of heating systems and can help you choose a new one and then install it for you in an efficient manner.
We can assist you with:
Radiant floor tubing embedded in concrete
When we install a new unit, we keep it simple. Though we are always here to assist you with all your heating needs, we want to make sure you require as little maintenance and as few repairs as possible. That's why we built in various components that minimize the need for future repairs and maintenance.
A new heating system installation is made up of a few key areas:
A heat source, usually a boiler or a water heater
Mechanical components that include zone controls, pumps, and heat exchangers
Source of the heat distribution, such as radiators, in-floor radiant tubing, air handler, retrofit staple-up, and fan convectors
Give us a call today at (510) 939-7870 to schedule your plumbing service!
I had an emergency plumbing issue, Big Blue was there in 15 min. and he did some good darn magic.

"Giovanni was awesome. I had an emergency plumbing issue, Big Blue was there in 15 min. and he did some good darn magic. Thank you!"

- Mark W.

Protects Property

"Very professional, hard worker took the time to protect my property"

- Richard B.

Jack did an excellent job.

"Jack did an excellent job. Came in assess the problem, explained it to me clearly and complete the job in a professional manner. Great representative for Big Blue"

- Bruce B.

Nick from Big Blue diagnosed the problem and ordered the replacement part in no time.

"Very knowledgeable and ordered the replacement part quickly so my tenant can have heat once again. Called a bunch of different companies but none of them work on hydronic air handlers. Highly recommend them for hydronic heating"

- Robert C.

Highly Recommended

"Javier came promptly and did an excellent job on our garbage disposal and toilet. Highly recommended."

- Mary U.