Gas Lines Fast & Reliable Plumbing Services
Gas Line Repairs in Alameda & Oakland
Protect Your Home & Your Family
Does your water heater have a leaky gas line? Want to set up a line to your BBQ out back? No matter your gas line predicament, you can count on the Big Blue Plumbing experts to give you a hand. Not only will our Alameda gas line repair plumbers install gas lines throughout your entire home or in your yard, we'll also provide a full home evaluation to make sure your lines are up to code. Looking to get earthquake-safe? We also install earthquake shut-off valves for your convenience and safety. And with full system leak detection, you can be sure we'll stop all of your leaks.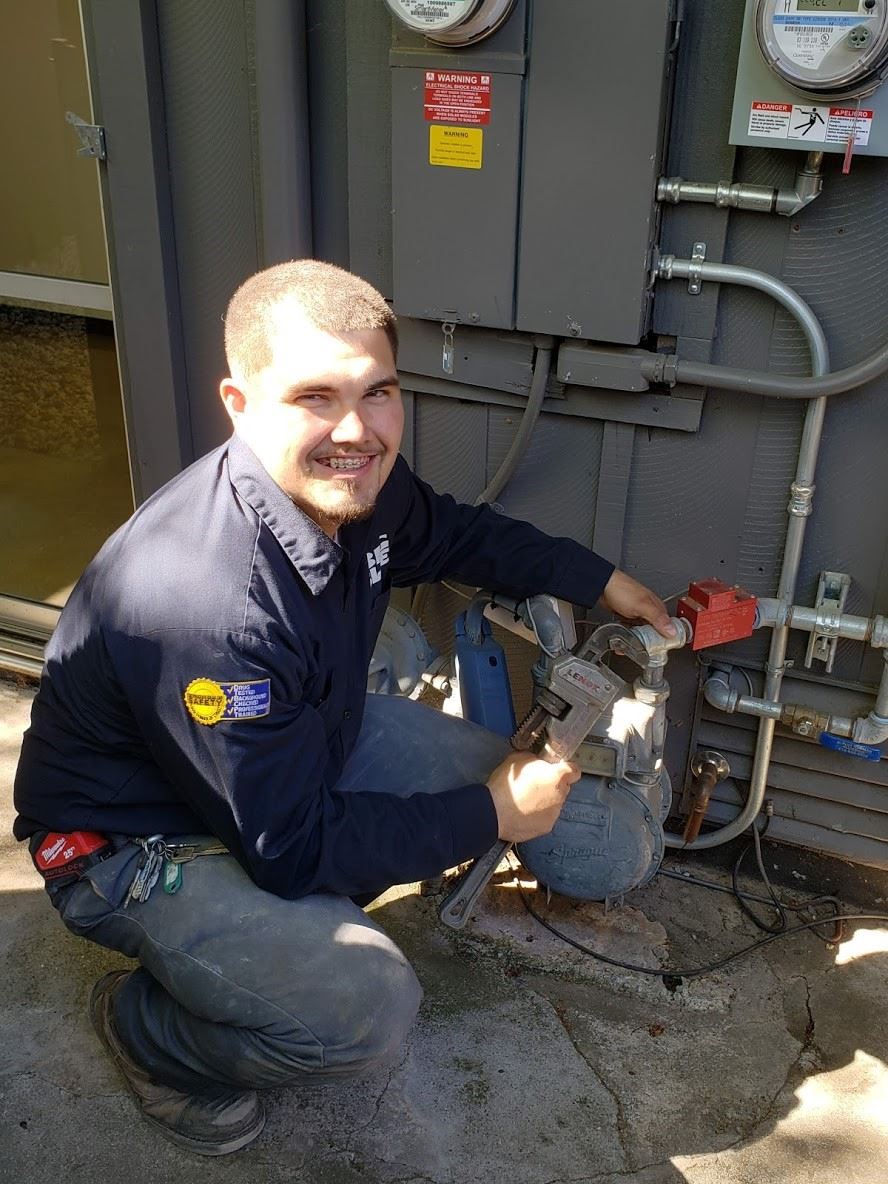 You may need a gas line repair if:
Your appliance was installed incorrectly
Your gas lines get pinched, resulting in a small leak
Your lines are old
You notice the smell of gas in your home, often a rotten egg smell
In the case that you smell gas in your home, you should immediately turn off your gas and then give us a call. Don't take the risk of trying to uncover the issue yourself. Make sure your family is safely away from your home and wait until a professional arrives.
To schedule a plumbing service, call our Oakland gas line plumbers day or night at (510) 939-7870, or fill out our contact form.
Gas Appliance Hook-Ups
We can help with the installation of any and all gas appliances from cook-tops, ranges, dryers, barbecues, space heaters, fireplaces, you name it, we can connect it with top quality valves and connections. It's very important that when dealing with appliance hook-ups, you have a team that is knowledgeable and experienced with these kinds of projects. If an appliance isn't hooked up correctly, it could pose a risk to your home or family. Big Blue Plumbing will make sure that your appliance is operating as it should.
Providing the Highest Standard Every Time
Call Us 24 Hours A Day

Best Guarantees & Warranties

Service All Makes & Models

Always Punctual

Team of Certified Plumbing Experts

No Overtime Charges

Full Home Plumbing Inspection
Gas leaks are bad! If you have a gas leak, shut off your gas and do not smoke or turn on or off any switches or appliances. Big Blue Plumbing technicians can test and locate a gas leak and can turn the gas back on, if you call PG&E, they will turn off the gas and you will have to get a new appointment to have the service restored. In most cases, gas leaks are simple replacements of valves and supply lines.
Give us a call today at (510) 939-7870 to schedule your plumbing service!
I had an emergency plumbing issue, Big Blue was there in 15 min. and he did some good darn magic.

"Giovanni was awesome. I had an emergency plumbing issue, Big Blue was there in 15 min. and he did some good darn magic. Thank you!"

- Mark W.

Protects Property

"Very professional, hard worker took the time to protect my property"

- Richard B.

Jack did an excellent job.

"Jack did an excellent job. Came in assess the problem, explained it to me clearly and complete the job in a professional manner. Great representative for Big Blue"

- Bruce B.

Nick from Big Blue diagnosed the problem and ordered the replacement part in no time.

"Very knowledgeable and ordered the replacement part quickly so my tenant can have heat once again. Called a bunch of different companies but none of them work on hydronic air handlers. Highly recommend them for hydronic heating"

- Robert C.

Highly Recommended

"Javier came promptly and did an excellent job on our garbage disposal and toilet. Highly recommended."

- Mary U.