GARBAGE DISPOSAL INSTALL, REPAIR, REPLACE IN ALAMEDA & OAKLAND, CA HOMES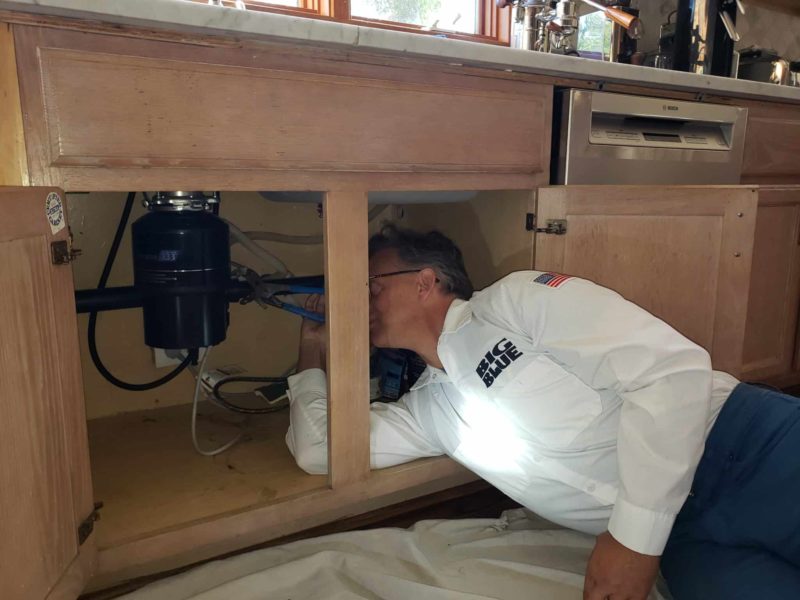 A garbage disposal, or more accurately a food waste disposal can be a very useful as part of your dish washing process. If you want to install a new unit or replace an existing garbage disposal,we like to understand the needs and expectations you have for your unit. Whether you want apartment grade, general use or you want to grind up body parts, we have the garbage disposal for you.
Our garbage disposals come with a five or ten year warranty, repairs on existing units are few, typically resetting the motor or freeing up a jam in the grinder blades. Quick, easy.
BIG BLUE PLUMBING SERVICES YOUR GARBAGE DISPOSAL
Turn to the experts at Big Blue Plumbing when you need garbage disposal repair in your Alameda or Oakland home. Before garbage, or food waste, disposals, washing dishes was a real chore. Garbage disposals streamline the dishwashing process for homeowners everywhere. Without a proper disposal, doing the dishes can feel like a task behind the times. Whether you already have a garbage disposal that is due for repairs, or you'd like to have a new one installed, Big Blue Plumbing can help. Our expert plumbers would love to discuss your expectations for the new or repaired unit. We offer apartment grade disposals and those for general use. With our premium five- and ten-year warranties, you'll enjoy a smooth-running garbage disposal for years to come. And if you do experience issues, our team will be there to administer quick and easy repairs. Contact us today to learn more!
BIG BLUE PLUMBING CUSTOMERS DON'T DREAD DISHES
With over 20 years of experience repairing, replacing, and installing plumbing fixtures, you can trust the local Big Blue Plumbing team to install or repair your garbage disposal. As soon as you notice your garbage disposal isn't working as it should, you should give us a call. The longer you wait to request repairs, the higher the risk you will suffer more significant plumbing issues in your home. Disposals left unrepaired to cost more money in the long run. So why wait? Save yourself time and money by calling in the Big Blue Plumbing team today! We promise to get to work quickly so we can diagnose and repair your issues in no time. Whether you need your garbage disposal removed, replaced, installed, or simply repaired, we have the tools and expertise necessary to service your plumbing fixtures with professionalism and efficiency.
SIGNS YOU NEED GARBAGE DISPOSAL REPAIR OR REPLACEMENT
If you have been having trouble with your garbage disposal, or it has stopped working altogether, it is crucial that you call professionals like our team at Big Blue Plumbing to resolve the issue. It can be dangerous and costly to attempt garbage disposal repairs on your own. Don't worry if your garbage disposal emergency occurs after hours. We are happy to help outside of our regular business hours, so you can relax with your garbage disposal up and running again. Before we perform any work, our team of plumbers runs an in-depth inspection, so you know exactly what services to expect. We'll also provide you with a quote for the price of our repairs. Our expert team members will discuss the services and price point with you before any work is done, so you can be sure you aren't getting upsold. Once we are on-site, we guarantee your satisfaction, but we can't help if you don't alert us to the problem. If you are experiencing any of the following, please contact Big Blue Plumbing today:
Garbage disposal making abnormal noises when in use
Blades in the garbage disposal easily jam
Electrical issues in the kitchen or house
Garbage disposal cuts up items but is clogged and won't drain
Funky persistent odors
Leaking underneath your sink
Takes longer than usual to grind and drain scraps
Need to press the reset button repeatedly for use
THE IMPORTANCE OF GARBAGE DISPOSAL REPAIR
While garbage disposals were once a luxury in homes across America, they are now nearly a necessity. Without a working garbage disposal, doing dishes and disposing of food waste can become burdensome tasks plaguing your daily activities. If you are without a garbage disposal, you will not regret the ease afforded to your household chores after having one installed by our Big Blue Plumbing team.
If you have a garbage disposal that is sitting unused or constantly needs repairs, it is even more pertinent to seek our services. When you let a broken garbage disposal fester without repairs, you will likely experience foul odors in your kitchen and more severe plumbing issues.
Commit to a working garbage disposal today. These devices help you save time and reduce waste after any meal and so you don't have to throw away food that will sit in your garbage can and stink up your home. Our 11 Service Guarantees help protect you and your garbage disposal. If you have issues after we offer our services, you won't have to pay anything out of pocket to have us come back for repairs or replacements.
KEEPING YOUR GARBAGE DISPOSAL CLEAN
Keeping your garbage disposal clean is one of the best ways to ensure that it will work smoothly over time. When your garbage disposal gets clogged or is left unclean, it can leave a funny smell in your kitchen that could infiltrate your entire home. Thankfully, you can rely on the experience and expertise of a local Big Blue plumber to help you get your garbage disposal clean, unclogged, and running again. Those same professionals offer some helpful tips for keeping your garbage disposal clean:
Use water when running your garbage disposal. – Water helps lubricate the blades and makes food waste easier to process. Be sure to leave it running after the blades are finished dicing your food scraps. This allows the water to remove remaining food particles and helps your drain stay clear. For best results, use cold water.
Don't pour grease or fat in your garbage disposal. – Using hot water does not help your garbage disposal properly dispose of fatty or greasy food. Once the food waste cools, there may still be some attached to the blades, or worse, your drain walls. The buildup can harm the blades and clog the device.
Don't grind hard, fibrous, or starchy foods. – Foods like popcorn kernels, seeds, celery stalks, onion skins, artichokes, potato skins, and eggshells should be tossed either in the trash or your compost pile. They can break, clog, and dull the blades within your garbage disposal, making them ineffective. Additionally, never place hard trash down in your disposal.
Cut big items into manageable sizes. – Your garbage disposal is an excellent tool for grinding and cutting up small things so that you don't have to deal with them or through them away. Don't make your disposal do all the work. Make the process easier by cutting large items up, so the disposal doesn't overwork itself.
Clean it regularly. – The first step in cleaning your garbage disposal is to unplug the device. Never place your hand in the disposal while it is plugged in. Once it is unplugged, swipe a paper towel around it a couple of times to grab larger items that may be stuck. After plugging back in you can use ice cubes to knock off any debris and citrus peels to keep it smelling fresh.
THE BIG BLUE PLUMBING DIFFERENCE
Our satisfied customers choose Big Blue Plumbing for all their disposal repair and plumbing needs because we keep customer satisfaction at the heart of all that we do. Our team of plumbers is always punctual, offering the best services with transparency our customers trust. We service all makes and models of plumbing fixtures, so no matter where you bought your garbage disposal or who installed it, we'll be able to cater our services to your needs. With the best guarantees and warranties in the industry, you won't find better plumbing services in Alameda and Oakland, CA.
CONTACT US TODAY FOR DISPOSAL REPAIR
Big Blue Plumbing wants to ensure plumbing fixtures like your garbage disposal are always working at their best. We offer our services to all of Alameda County, Oakland, and the surrounding East Bay Area. Call us at (510) 939-7870 when you need help getting your garbage disposal repaired, replaced, or installed. If there are any issues after we provide our professional plumbing services, remember we have 11 Service Guarantees to protect you and your devices. As your local plumbing friends, we are here for you and your family or office 24/7 for emergency services.
Contact us today for garbage disposal repair and other plumbing services!
5 Star Reviews for 5 Star Service
See What Others Say About Us
"He looked at my problem and assured me it was a quick fix. He educated me about why the problem was happening and what he would do to fix it."

- Isaac K.

"Thanks to Paul's expertise and patience, along with a great financing plan, I have ordered a single boiler/water heater unit that will save me money in the long run and avoid the disruption of dealing with an unexpected equipment failure."

- Jeff C.

"There were a few other items that I asked Paul to look at based on a recent home inspection and he walked me through my options explaining the pros/cons of each. He was very knowledgeable and easy going and I felt in good hands throughout."

- Shehzad W.
Making Every Service Experience Exceptional
Call Us 24 Hours A Day

Best Guarantees & Warranties

Service All Makes & Models

Always Punctual

Team of Certified Plumbing Experts

No Overtime Charges
Experience the

Big Blue Difference
Our team of certified plumbing experts are ready to handle any service your home may need. Your satisfaction is guaranteed!