Water Heaters Fast & Reliable Plumbing Services
Water Heater Services in Oakland, CA
Stuck Without Hot Water? Our Plumbers Can Help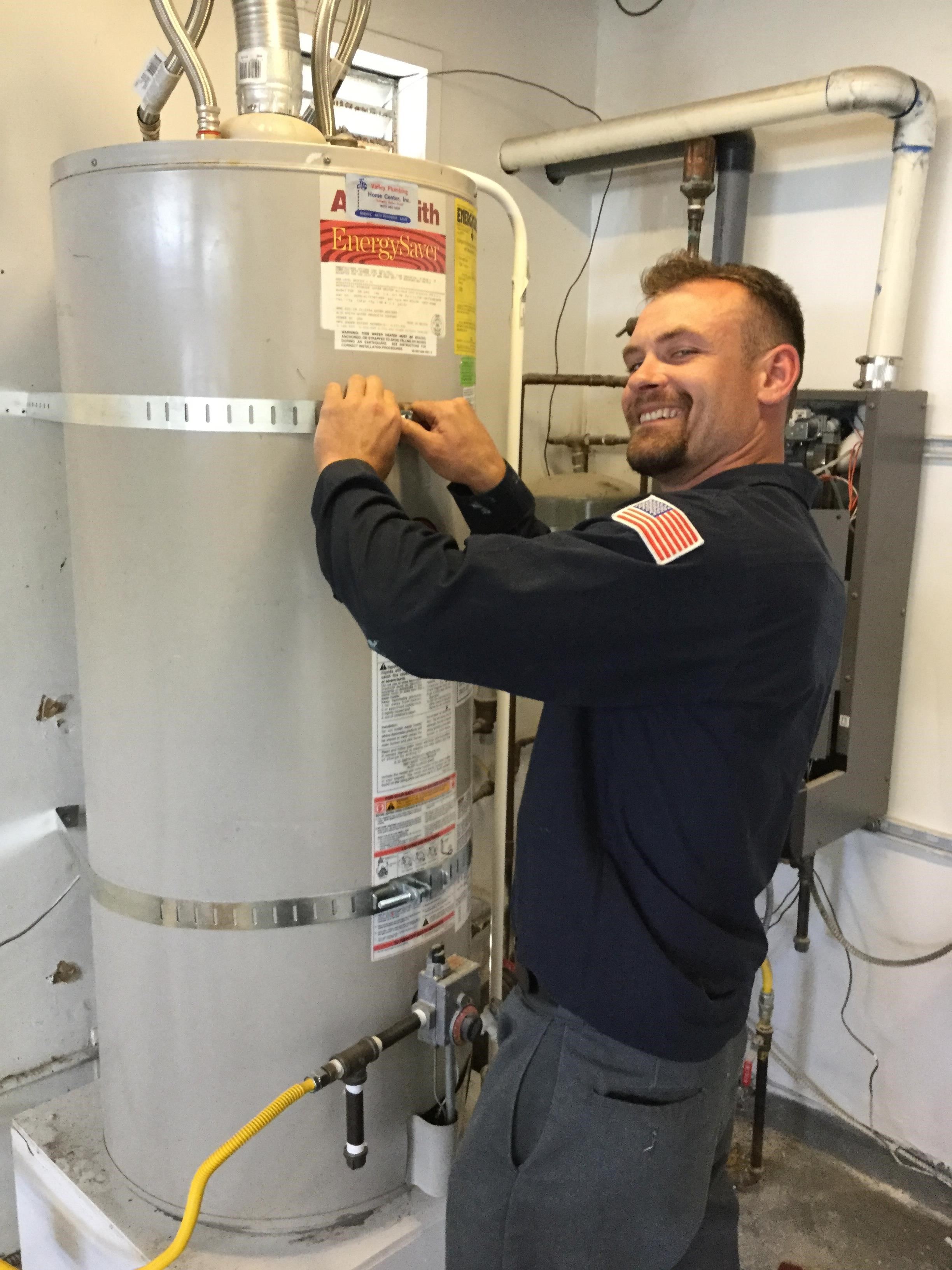 A broken water heater can make life uncomfortable, to say the least. Without hot water, showering can become an absolute chore, dishes and laundry can go undone, and bathing children comfortably becomes nearly impossible. In a busy home, families can't afford the inconvenience of a broken water heater
That's why we at Big Blue Plumbing answer calls day or night to take care of broken water heaters and other plumbing emergencies. We'll work to assess and repair the problem as efficiently and effectively as possible, getting your hot water heater up and running in no time. Our professional, licensed heating experts are more than ready to put your water heater woes to rest.
Big Blue Plumbing offers:
The best warranties and guarantees in the industry
Certified plumbing experts
Same-day service appointments
---
Contact us for water heater & other plumbing services in Oakland by calling (510) 939-7870 or contacting us online to schedule a service.
---
Water Heater Repair
We at Big Blue Plumbing will repair or replace all models of electric, gas, solar, or tankless water heaters as efficiently and as effectively as possible. Sometimes the repair is simple, such as a heating element failing before the rest of the water heater goes. Other times the repairs are more complicated or costly.
You may be in need of water heater repair if you notice issues such as:
Water that is discolored or has an odd smell -
Having discolored water is a sure sign that something is wrong with your water heater. The water that comes out of your plumbing fixtures should be clear, if looks gray'ish or hazy, contact our Alameda water heater repair team for the help you need. Your water heater could have a sedimentation build up inside of the tank. These minerals usually are what cause the water to be discolored.
Pooling or water damage around the unit -
Usually if you notice water damage or water pooling around your hot water tank, this is due to a leak in the hot water tank. It could be corrosion that has started on the inside of the hot water tank and eaten it's way to the outer parts of the water heater. Give us a call today if you notice your water heater is leaking.
Hot water running out too quickly, or not getting hot enough -
If you are running out of hot water fast, this is most likely due to one of your two heating elements that are found within the hot water heater. If one of them has failed, your hot water heater will not be able to produce enough hot water to stock your household.
Persistent, unusual noises -
All hot water heaters make some noise as they are heating the water. But, if you are hearing loud rumbling or pops coming from your hot water heater, this is a good reason to raise some concern. In most cases, these loud noises are caused by a mineral deposit build up inside of the tank on the heating elements. Call us today and we'll send our Alameda water heater repair technicians to come out and inspect your water heater
Whatever the issue, our Alameda and Oakland water heater repair team will work to diagnose the problem quickly and correctly, presenting you with an estimate upfront before completing the repair. Unlike some water heater repair services, we won't blindly go ahead with a costly repair if your water heater isn't worth the investment.
Delaying water heater repairs can lead to costly damages, such as water and structural damage in your home. It can also impact water quality in the long-term if debris builds up and begins to circulate in your water system- leading to potential health hazards. Proactively getting water heater repairs done right away can help you avoid these hassles and expense- giving you peace of mind now and down the line. Regular maintenance can also prevent premature water heater unit replacement, which not only saves you money but keeps dangerous water related issues at bay.
If your water heater is old or has other significant issues, continuing to sink money into repairs can wind up being more expensive than simply replacing the entire unit. Our experienced technicians at Big Blue Plumbing will talk with you about your options and only complete a repair after consulting with you about the possibilities and expenses
---
For prompt & effective water heater repair in Oakland, call (510) 939-7870 or contact us online to schedule a service.
Setting You Up for Success with Quality Installation
In addition to providing prompt, effective water heater repair services, our experienced plumbing technicians at Big Blue Plumbing in Alameda, CA, provide full water heater installation. Sometimes a repair simply won't take care of the problem you're experiencing, while other times the expense of the repair isn't worth shelling out on an old water heater. Whatever the reason, there are times when buying a new water heater becomes the necessary choice.
If you're in that position, call on our experienced plumbers at Big Blue Plumbing to take care of the water heater installation. We'll take care of replacing your old water heater while consulting you with the range of new water heater options available. Whether you want to go with an electric water heater, a solar water heater, a tankless water heater, or a traditional unit, we have you covered. And we stand firmly behind our installations with a guarantee to not only fix your water heater for free if it fails but to also give you $100 in vouchers toward future service.
Experts In High-Efficiency Hot Water Heaters
At Big Blue Plumbing, we are experts in high efficiency hot water heaters. The past decade has brought a host of new, more varied options for improving your water heater's energy efficiency and cutting down on your utility bills. Whereas hot water heaters used to come in either tank or tankless options, there are now far more options for improving water heating energy consumption.
Our skilled technicians at Big Blue Plumbing are true masters in energy efficient water heating technology and are happy to answer any of your questions about the options available. Ask us about high-efficiency storage tanks or hybrid water heaters. We even have hot water space heating options that qualify for PACE financing. Whatever your aim, we will always take the time to learn about you and your home's requirements, recommending the best solution for your home and your budget.
Providing the Highest Standard Every Time
Call Us 24 Hours A Day

Best Guarantees & Warranties

Service All Makes & Models

Always Punctual

Team of Certified Plumbing Experts

No Overtime Charges

Full Home Plumbing Inspection
Commercial Water Heater Repairs & Installations
When the hot water fails in an apartment building, the property manager is getting inundated with calls and a technician with experience in high-capacity hot water is needed. We have been working with many apartment buildings in and around Oakland, Berkeley, and Alameda. We like to service and maintain systems but are also well versed in replacing and upgrading systems from high-efficiency water heaters to combination hydronic heating and hot water boilers to solar hot water.
High-Efficiency Water Heater Installations
The ultimate hot water solution is the high-efficiency storage tank water heater as it has all the advantages of a tankless water heater without the drawbacks. The technology has been with us in the commercial water heating capacity but in recent years many manufacturers are making residential models. The advantages over tankless water heaters are the elimination of the long lag time in getting hot water to a fixture and the "cold water sandwich", they still provide endless hot water and some have efficiency ratings at 97% compared with 88% for tankless and 60% for older tank styles.
If you have a large bathtub or more that two bathrooms, this style water heater may make the most sense for you. There are some installation considerations, particularly around sizing the gas line and installing the flue vent, but with the ability for a 50-gallon tank to create more hot water than a standard 80-gallon tank, these things are pretty special. High-efficiency storage is a great option for space heating hydronic options too. Make you check out our reviews as well!
Replacing Your Water Heater
How to Know When You Need To Replace Your Water Heater:
Hot water is something we can take for granted on a daily basis. Unfortunately, hot water heaters are not meant to last forever. Whether it's age, or day to day usage, water heaters have about a decade of good use before needing to be replaced. Below we have a few signs to look for to know when you need to replace your water heater.
Age of the Water Heater -
Depending on the age of your water heater, it may be time to replace it. Water heaters will only last between 8 to 10 years. This is normal maintenance and not allowing problems that need repair to go unchecked. To check the age of your water heater, you can look for a serial number or model number and look it up online to see when it was manufactured.
Water Heater Making a Lot of Noise -
Water heaters don't typically make a lot of noise. But, if you start to hear rumbling, clanking or banging noises coming from your tank, it could be an indication that your water heater is at the end of it's lifespan. If a burner or mineral buildup inside the tank can lead to corrosion or leaks, it may be time to look at replacing your water heater.
Insufficient Tank Size -
If your family has gotten bigger in the past year or so, it may be time to look at replacing your water heater with a bigger one. Have you noticed that your hot water runs out faster then is usually did? This could be because the demands of the smaller water heater aren't meeting the demands of hot water usage in your home.
Permit Information
According to the Contractors State License Board, "It shall be considered un-lawful to install any water heating appliance without an inspection by the local authorities". Big Blue Plumbing can purchase and manage the permit process.
To schedule plumbing service, call our Oakland plumbers day or night at (510) 939-7870 or fill out the contact form.
I had an emergency plumbing issue, Big Blue was there in 15 min. and he did some good darn magic.

"Giovanni was awesome. I had an emergency plumbing issue, Big Blue was there in 15 min. and he did some good darn magic. Thank you!"

- Mark W.

Protects Property

"Very professional, hard worker took the time to protect my property"

- Richard B.

Jack did an excellent job.

"Jack did an excellent job. Came in assess the problem, explained it to me clearly and complete the job in a professional manner. Great representative for Big Blue"

- Bruce B.

Nick from Big Blue diagnosed the problem and ordered the replacement part in no time.

"Very knowledgeable and ordered the replacement part quickly so my tenant can have heat once again. Called a bunch of different companies but none of them work on hydronic air handlers. Highly recommend them for hydronic heating"

- Robert C.

Highly Recommended

"Javier came promptly and did an excellent job on our garbage disposal and toilet. Highly recommended."

- Mary U.