Water Pipes Fast & Reliable Plumbing Services
Oakland Water Pipe Services
Dry Solutions for Your Home Plumbing Problems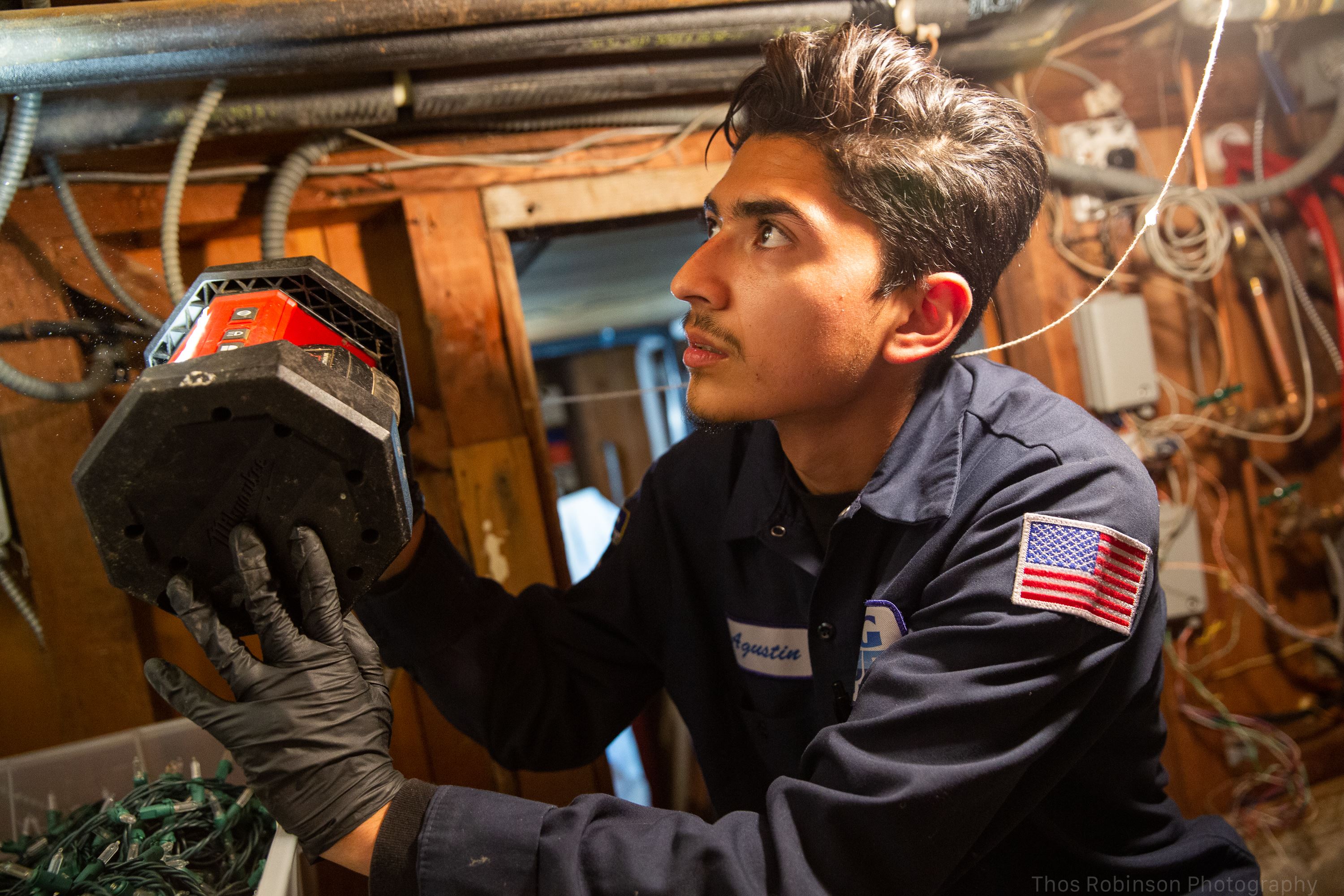 Dealing with water pipe damage in your Alameda, Oakland, or East Bay area home can be a huge hassle. Thankfully the plumbing experts at Big Blue Plumbing can help. Whether you are looking to have your outdated piping replaced, require our 24-hour emergency services, or would like to install a main shutoff replacement to prevent any future catastrophe, our Oakland water pipe plumbers can help! Our local team is committed to your satisfaction and will take every step to ensure exactly that
For all your water pipe repairs, give us a call today at (510) 939-7870.
Signs You Need Water Pipe Repair
Your water line pipes aren't something that you think about on a day to day basis, that is, until a problem occurs that requires professional help. But, how do you know that your pipes need repair? Below are a few signs to look for in order to avoid this nightmare scenario.
Water Pressure Drops -
If you notice while you are showering that your water pressure seems to be far less pressurized then it was before. It could be due to a blockage or a leak in your pipes. Contact us today if you suspect a problem with your home's piping.
Water Bills Increase -
A water bill increase is a clear indicator that your water pipe may have a leak and needs repair. This small leak is wasting water and driving your water bill costs up. You may want to address the problem as soon as you can in order to avoid paying high monthly water bills.
Puddles in Your Yard -
If you notice puddles forming in your yard and you haven't had a heavy rain or left your sprinklers on for too long, it could be that a main water line has a leak and is causing your yard to be over saturated.
Our Water Pipe Services
Especially in the beautiful older homes that pepper the East Bay area, pipes leak and sometimes even burst. It is crucial to handle water pipe issues quickly or preemptively before they wreak irreversible havoc on your home. Thankfully your local Big Blue Plumbing experts are here to help.
Give us a call today at (510) 939-7870 to schedule your plumbing service!
Providing the Highest Standard Every Time
Call Us 24 Hours A Day

Best Guarantees & Warranties

Service All Makes & Models

Always Punctual

Team of Certified Plumbing Experts

No Overtime Charges

Full Home Plumbing Inspection
Our Comprehensive Water Pipe Services
Water Pipe Repair & Replacement
Whether you need a complete repiping, or you simply need help locating and repairing problematic hot and cold pipes, Big Blue Plumbing can help. Don't waste your time dealing with multiple contractors. We can solve all your water pipe repair and replacement needs quickly and efficiently.
When you have a pipe burst, it is of the utmost importance to turn off the main water supply as quickly as possible. The longer it takes to shut off the source of the water, the greater the risk of severe flooding and water damage in your home. The trouble is many older homes have "GATE" valves that are hard to locate, difficult to turn, or simply broken.
Don't get stuck with 15 gallons of water gushing into your home by the second. Choose Big Blue Plumbing to install a main shutoff replacement so that you can rest assured your plumbing isn't at risk for the ultimate disaster.
Many homes in Alameda and Oakland were built before 1965, when copper piping became standard. This means your home may be outfitted with iron piping that is vulnerable to corroding after their zinc coating has been washed away. These galvanized pipes are responsible for more than half the plumbing issues in the Bay Area. Why not save yourself the headache of looming plumbing damage and opt for our repiping services? We can replace your piping with copper or PEX pipes that will stand the tests of time.
If you have noticed a chronically wet area in your yard or water bubbling up from a crack in your driveway, you may have a leak in your main water line. An inexplicably high water bill may also indicate a leak in your main water line. If you suspect there is an issue with your main water line, call Big Blue Plumbing today. In some cases, we can repair the problem without digging 12″ into the ground to access the main water line.
I had an emergency plumbing issue, Big Blue was there in 15 min. and he did some good darn magic.

"Giovanni was awesome. I had an emergency plumbing issue, Big Blue was there in 15 min. and he did some good darn magic. Thank you!"

- Mark W.

Protects Property

"Very professional, hard worker took the time to protect my property"

- Richard B.

Jack did an excellent job.

"Jack did an excellent job. Came in assess the problem, explained it to me clearly and complete the job in a professional manner. Great representative for Big Blue"

- Bruce B.

Nick from Big Blue diagnosed the problem and ordered the replacement part in no time.

"Very knowledgeable and ordered the replacement part quickly so my tenant can have heat once again. Called a bunch of different companies but none of them work on hydronic air handlers. Highly recommend them for hydronic heating"

- Robert C.

Highly Recommended

"Javier came promptly and did an excellent job on our garbage disposal and toilet. Highly recommended."

- Mary U.