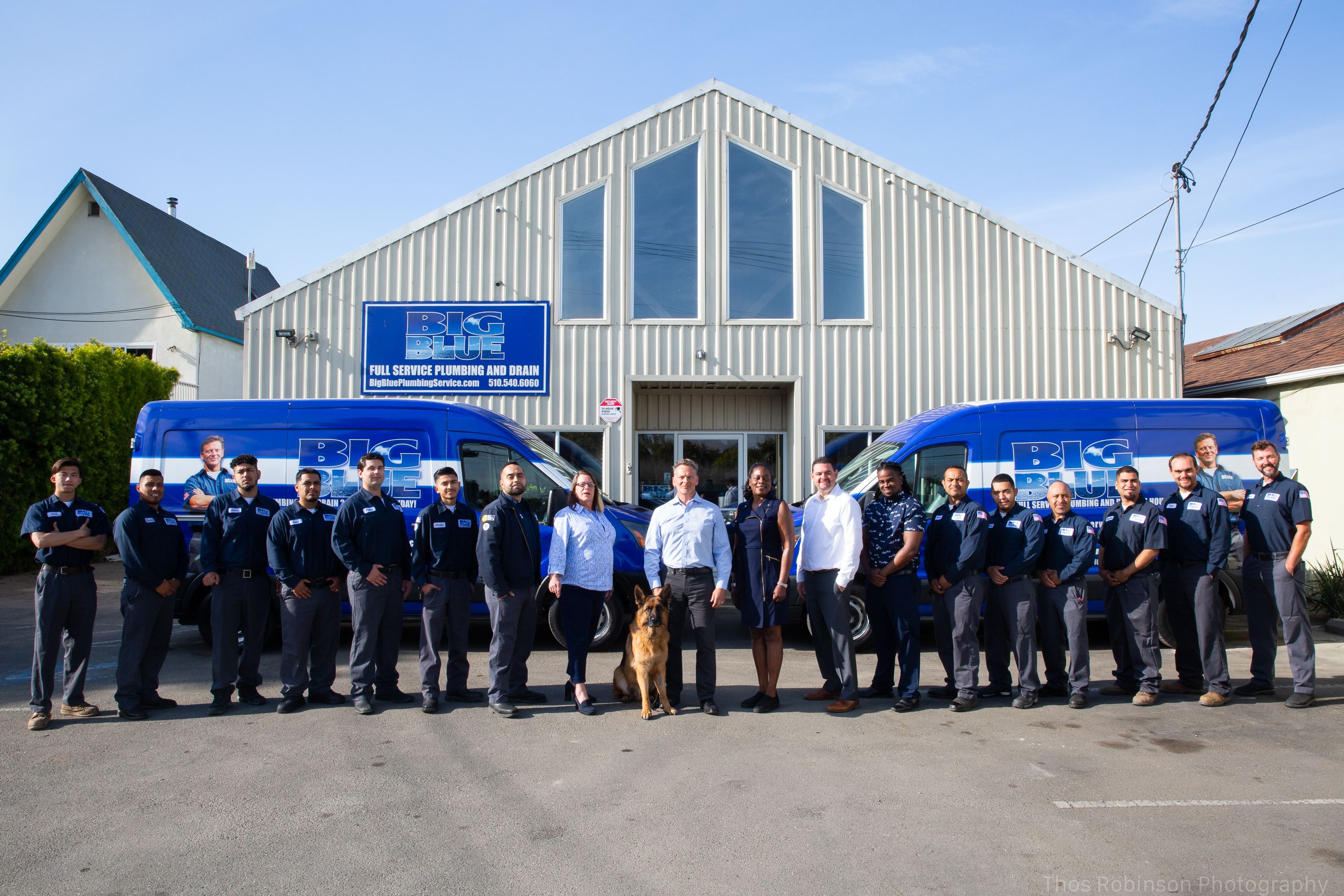 Video starts with bird view of Big Blue Plumbing building and then transitions to the inside. Starts with showing the front desk as camera moves towards the other rooms through out the office. First office shows man waving to the camera from his desk, and moves toward the next room with woman smiling and waving at camera. Then camera moves to show front desk with woman turning around from computer to wave at camera as she smiles. The camera then walks toward another room with 2 employees are working at their desks and they turn around to wave. Next video image is team outside in front of the company trucks. Camera then shows a bird eye view of the trucks driving off the company parking lot. Four trucks are then shown turning the corner and driving onto the streets. Close up of one technician driving appears then switching to video showing same technician taking out equipment from the company trunk. Technician is then shown using their equipment at a customer's property. Truck then drives away and trucks return to the office. Video ends with a bird eye view of office.
Reliable Plumbing Service in Oakland
Plumbing Repair, Replacement & Installation Solutions in Alameda & Beyond
The plumbing system in your home is responsible for so much of your daily routine, from your showers to your dishes to your appliances. When you experience an issue with an element of your plumbing, you immediately notice it, which is why you need an immediate solution. Big Blue Plumbing is here to help. We are a plumbing company in Oakland that offers a wide variety of services for every inch of your home.
No Hot Water? Clogged Drains? 24-Hour Emergency Service
From minor pipe repairs and fixture services to more extensive projects like water heater installation and hydronic radiant heating, we can confidently handle it all. We even offer a home protection plan to keep your system in good condition for years to come. For the last two decades, customers in Oakland and Alameda have been counting on us to restore comfort to their homes with our plumbing services. They know that we not only provide the highest quality services, but we back them with warranties and a 100% customer satisfaction guarantee. We look forward to being of service to you and your home.
Give us a call today at (510) 939-7870 to schedule your plumbing service! We service Oakland, Alameda, and the surrounding areas.
I had an emergency plumbing issue, Big Blue was there in 15 min. and he did some good darn magic.

"Giovanni was awesome. I had an emergency plumbing issue, Big Blue was there in 15 min. and he did some good darn magic. Thank you!"

- Mark W.

Protects Property

"Very professional, hard worker took the time to protect my property"

- Richard B.

Jack did an excellent job.

"Jack did an excellent job. Came in assess the problem, explained it to me clearly and complete the job in a professional manner. Great representative for Big Blue"

- Bruce B.

Nick from Big Blue diagnosed the problem and ordered the replacement part in no time.

"Very knowledgeable and ordered the replacement part quickly so my tenant can have heat once again. Called a bunch of different companies but none of them work on hydronic air handlers. Highly recommend them for hydronic heating"

- Robert C.

Highly Recommended

"Javier came promptly and did an excellent job on our garbage disposal and toilet. Highly recommended."

- Mary U.
Request An Inspection & Estimate
Our Extensive Service Offerings
Any Oakland plumber can fix a leaking pipe or clogged drain. At Big Blue Plumbing, we can certainly assist you with those and any other smaller problems, but we are proud to offer a wider variety of services many of our competitors don't offer. Simply put, there is almost nothing we can't do. In addition to general plumbing services, we also offer fixture plumbing, gas line services, hydronic radiant heating solutions, drain and sewer services, a wide variety of water pipe services, and water heater repairs and installations for both residential and commercial properties.
Have a unique plumbing problem that requires the attention of an informed professional? Reach out to our team. We'd be happy to discuss your problem over the phone and schedule a service appointment to further assess the situation.
Providing the Highest Standard Every Time
Call Us 24 Hours A Day

Best Guarantees & Warranties

Service All Makes & Models

Always Punctual

Team of Certified Plumbing Experts

No Overtime Charges

Full Home Plumbing Inspection
Serving The East Bay Area
Why Choose Our Certified Oakland Plumbers?
Because plumbing problems almost always arise without warning, you need a plumbing team that can be there for you whenever you need assistance. Big Blue Plumbing is proud to offer 24-hour availability for all your emergency plumbing needs. Our certified Oakland plumbers have extensive experience with all makes and models of plumbing equipment and systems and arrive equipped with everything they need to provide a fast, efficient fix.
Founded in 2000, Big Blue Plumbing believes in exceeding expectations every time. There are several reasons why we think we're the best certified local plumbers for the job, including all of the following:
Punctual, Professional Plumbers – Our plumbers show up on time and treat you and your property with respect. We always use adequate floor protection and clean up afterward, so you're not inconvenienced any more than you need to be. We take being a Preferred Plumber™ and an approved Elite Service with HomeAdvisor very seriously. Take a look at our customer reviews for overwhelming evidence of our superior customer service!
Best Service Guarantees in the Business – Big Blue Plumbing offers service guarantees and warranties that are among the best in our industry. Plumbing repairs shouldn't be an ongoing hassle if they're fixed correctly. Be sure to ask us about our $100 No-Aggravation Guarantee!
Experts with All Makes and Models – Our plumbers are experienced with all makes and models of water heaters, toilets, tubs, and plumbing fixtures to provide expedient service. Whatever plumbing issue you may be experiencing, we're qualified to fix it!
Honest, Upfront Pricing on Repairs – We pride ourselves on being as honest and upfront about plumbing repair and replacement costs as possible, so you always know what to expect. There are no overtime charges applied here. If energy savings are your primary concern, we'd be happy to provide recommendations on the most efficient tankless water heater or hydronic radiant heating system to save you money!
We offer some of the best guarantees and warranties in the industry, and we'll never charge any annoying overtime charges. Just top-quality services when you need them most. That's the Big Blue Plumbing way.
Experience the Big Blue Difference
Our team of certified plumbing experts are ready to handle any service your home may need. Your satisfaction is guaranteed!
Get In Touch