Gas Line Installation, Repair & Replacement Fast & Reliable Plumbing Services
Gas Line Installation, Repair, Replace in Alameda & Oakland
If your Alameda or Oakland, CA home needs gas line repair or installation, call Big Blue Plumbing. When your gas lines are improperly installed, damaged, or not working optimally, your home is at risk for a gas leak. We can help you prioritize your family's safety. Proper gas line sizing and professional maintenance can help reduce the risk of a gas leak in your home. Unfortunately, these leaks pose a more serious threat than an annoyance. They can cause severe health risks and even death when left unaddressed. Here at Big Blue Plumbing, we understand the importance of keeping your home safe. Whether you need repairs or gas line installation, our professional team can fix the issue and put your mind at ease.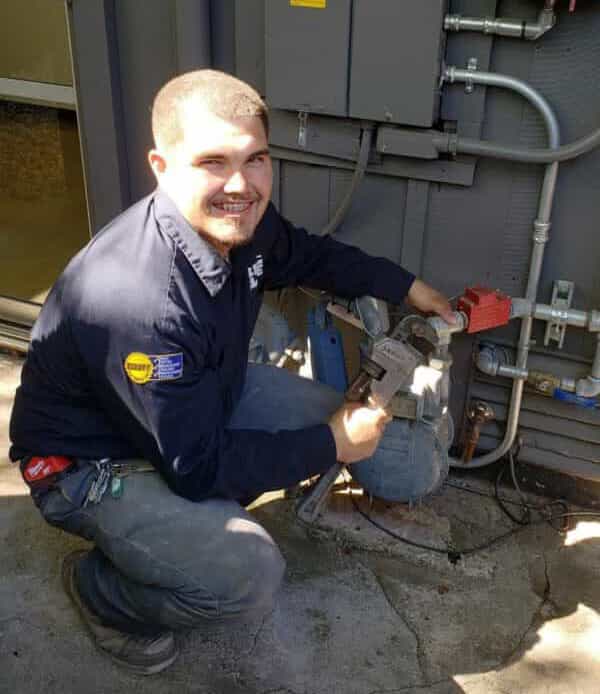 Keep Your Family Safe—Signs You Need Gas Line Repair
Unfortunately, most of the indicators of a gas leak in your home will manifest themselves as health-related symptoms in either you or your family members. It is of the utmost importance that you address these issues immediately, so they do not worsen with time and potentially wreak life-threatening havoc on those who reside in your home. If anyone in your household notices or is experiencing any of the following, you may have a gas leak:
Headaches
Nausea
Rotten egg/sulfur smell
Shortness of breath or difficulty breathing
Chest pain
Fatigue or drowsiness
Depression
Lack of appetite
Nosebleeds
Feeling dizzy or light-headed
Ringing in ears
Dead plants
Unexpectedly high energy bills
Give us a call today at (510) 939-7870 to schedule your plumbing service!
Providing the Highest Standard Every Time
Call Us 24 Hours A Day

Best Guarantees & Warranties

Service All Makes & Models

Always Punctual

Team of Certified Plumbing Experts

No Overtime Charges

Full Home Plumbing Inspection
The Importance of Professionals Acting Fast
Often when people try to implement home repairs themselves, they end up with a temporary fix. While this may be viable for the time being, you should never handle gas line repair as a DIY home improvement project. When laymen complete gas line installations and repairs instead of professionals, there is a higher risk of harmful health hazards. Our team of technicians frequently come across improperly fit or connected pipes that are the culprits behind these dangerous leaks. Here at Big Blue Plumbing, we understand the code and safety considerations necessary for running gas piping and servicing these repairs. As fully licensed and trained professionals, we understand the risks and how to operate in a way that ensures everyone's safety and peace of mind. Don't wait for your gas leak to become deadly. Turn to the professionals today.
Choose Us for Your Gas Line Installation
The most important decision you can make when handling a gas line repair or installation is to trust a professional. Once you have recognized the issue, we hope you will choose us to solve it. At Big Blue Plumbing, we don't cut corners. Our expert technicians will begin with a gas piping evaluation and code-compliant pipe sizing to determine the correct pipe size. We will then decide the best installation option to suit your home's gas line. In many cases, we can use our state-of-the-art pipe boring technology to service underground piping without digging up your yard or driveway. We are dedicated to providing convenient and professional gas line repair and replacement.
The Big Blue Plumbing Promise
Here at Big Blue Plumbing, we know the heart of our business is our satisfied customers. From inspection to repair and installation, we complete every step of the job with your best interest in mind. Our warranties and guarantees are the best in the industry, so you can sleep easy knowing your family will be safe form gas line leaks for years to come. When we come out to inspect your suspected leak, we'll provide you with a full-home plumbing inspection. You can never be too careful when it comes to preemptive plumbing maintenance. Don't worry, we also promise never to sell you costly services you don't really need. You can trust us to give it to you straight. We are always punctual and complete repair jobs in a timely, cost-effective manner. There's no reason to take our word for it. See why our satisfied customers choose Big Blue Plumbing.
I had an emergency plumbing issue, Big Blue was there in 15 min. and he did some good darn magic.

"Giovanni was awesome. I had an emergency plumbing issue, Big Blue was there in 15 min. and he did some good darn magic. Thank you!"

- Mark W.

Protects Property

"Very professional, hard worker took the time to protect my property"

- Richard B.

Jack did an excellent job.

"Jack did an excellent job. Came in assess the problem, explained it to me clearly and complete the job in a professional manner. Great representative for Big Blue"

- Bruce B.

Nick from Big Blue diagnosed the problem and ordered the replacement part in no time.

"Very knowledgeable and ordered the replacement part quickly so my tenant can have heat once again. Called a bunch of different companies but none of them work on hydronic air handlers. Highly recommend them for hydronic heating"

- Robert C.

Highly Recommended

"Javier came promptly and did an excellent job on our garbage disposal and toilet. Highly recommended."

- Mary U.