Drain & Sewer Fast & Reliable Plumbing Services
Drain & Sewer Services in Alameda & Oakland
Reliable Plumbing Solutions for Your Home
When you're dealing with drain or sewer problems in your home, you need a team that you can count on to provide a fast and reliable solution. Big Blue Plumbing is that team. If you have ever searched for, "drain cleaner near me", We are a plumbing company that offers both drain and sewer services in Oakland and the surrounding areas. Whether it's a small clogged drain or an entire sewer line replacement, we're the team with the experience and knowledge that will get your home's plumbing flowing again.
We provide a wide range of drain and sewer services, such as:
3 Signs You Need Drain Cleaning
You don't normally think of your drainage system on a day to day basis. But, when your toilet is overflowing or your sink has been frequently clogging, you'll have wished you had paid attention to the warning signs. Trying to use over the counter chemical drain cleaners can fix your drains for a short time, but they will provide long term problems to your drain piping by causing corrosion. Below we have provided you with 3 signs to keep an eye out for when to clean you drains.
Slow Draining -
This may seem like a silly sign, but if you notice that your drains a moving slower for no reason, it could be that their is food, hair, grease or even soap scum build up that is causing the clog. It's best to call our professional's rather than assume the drain will get better.
Strange Smells -
Odd odors that are coming from your drainage system are never pleasant. These odors are likely a result of a plumbing issue, whether it be sewer gases or even waste sitting in your drains, this is something that you should call us about as soon as possible.
Gurgling Noises -
Strange noises don't always mean that something is wrong. But, if you are hearing a gurgling noise come from your toilet or drain, this is a definite sign that needs to be addressed. The noise usually means that their is air trapped in the drainage system.
If you're in need of drain or sewer repairs in Oakland, don't hesitate to give us a call today at (510) 939-7870.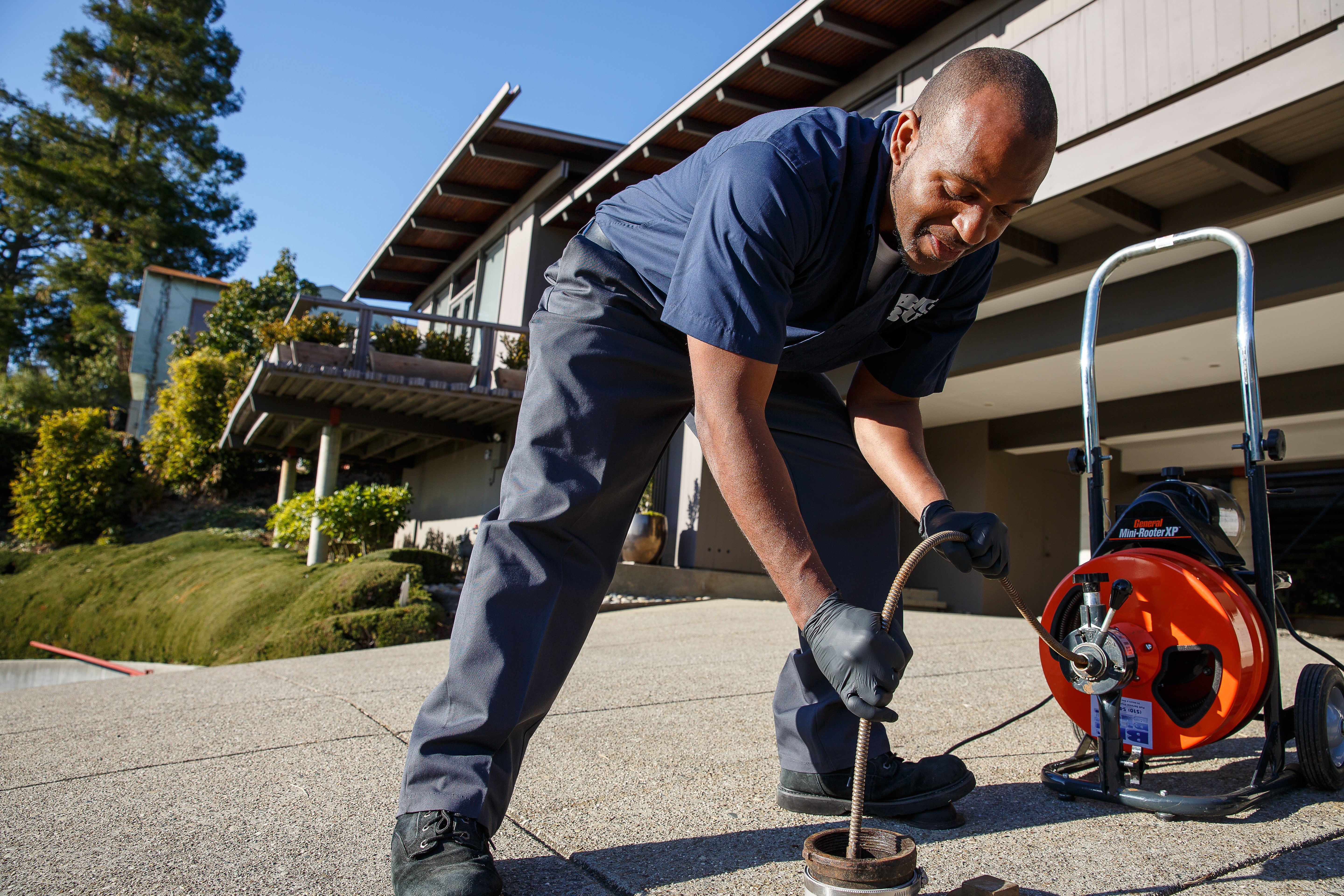 Providing the Highest Standard Every Time
Call Us 24 Hours A Day

Best Guarantees & Warranties

Service All Makes & Models

Always Punctual

Team of Certified Plumbing Experts

No Overtime Charges

Full Home Plumbing Inspection
Quality Assistance for Drains You Can Depend On
For two decades, we've been helping homeowners with all their complex plumbing issues. Sewer lines, in particular, require a high level of expertise in order to provide a quality solution that will not only fix the problem at hand but make sure the issue doesn't reemerge.
Some common drain and sewer problems we can solve include:
Clogged drains caused by hair, soap, food particles, and dust
Damage to sewer lines caused by tree roots
Corroding sewer lines
Broken pipes
Sewer ejector problems
If you're experiencing one of the problems above, or have another drain or sewer issue that is not listed, we can assist you. It's important to give us a call at the first sign of trouble, as problems can grow and become more costly if not attended to right away.
Clean-Out Installations & Repairs
In order to snake a drain, it is expedient and sometimes necessary to have a drain cleaning access known as a "clean-out". Many homes have clean-outs on their drains, and many are old, jammed up, and unusable. Many homes do not have clean-outs and this can make drain cleaning difficult or impossible. It can be extremely frustrating for all involved if what should be a simple case of running a drain cable becomes impossible because there is no drain access. Nothing is insurmountable and Big Blue Plumbing can help install drain clean-outs on all types of pipes, in crawl spaces, on exterior walls, in driveways, in the street, and even underground.
Dependable Sewer Ejector Pump Services
Gravity works really well for ridding your home of waste, but what do you do when you have a fixture, appliance, or bathroom that is below the level of the sewer line? Well, a sewage ejector pump is a device that accepts the drainage from a lower level fixture and pumps it up to the drain to a point where gravity can take over. These ejector pumps are very effective and reliable if sized and installed correctly. Our Oakland plumbers are thoroughly experienced with these pumps and offer repairs, replacements, and new system installations. Best of all, our services are backed by a 100% satisfaction guarantee.
EBMUD Sewer Certificate
East Bay Municipal Utility Department has a program that requires a certificate of sewer lateral compliance be issued whenever a home is sold, when a remodel project exceeds $100,000, or when changing the size of a water meter. The certificate is issued after an EBMUD inspector has proof that a sewer lateral has no leaks. In reality, no clay sewer line can be verified to be leak-free, so in almost all instances, a replacement is necessary. Some municipalities have their own programs and some are more stringent than others. Give our Alameda sewer service team a call and we will be happy to discuss your sewer lateral certificate and what you may expect from the compliance certification process.
Give us a call today at (510) 939-7870 to schedule your plumbing service!
I had an emergency plumbing issue, Big Blue was there in 15 min. and he did some good darn magic.

"Giovanni was awesome. I had an emergency plumbing issue, Big Blue was there in 15 min. and he did some good darn magic. Thank you!"

- Mark W.

Protects Property

"Very professional, hard worker took the time to protect my property"

- Richard B.

Jack did an excellent job.

"Jack did an excellent job. Came in assess the problem, explained it to me clearly and complete the job in a professional manner. Great representative for Big Blue"

- Bruce B.

Nick from Big Blue diagnosed the problem and ordered the replacement part in no time.

"Very knowledgeable and ordered the replacement part quickly so my tenant can have heat once again. Called a bunch of different companies but none of them work on hydronic air handlers. Highly recommend them for hydronic heating"

- Robert C.

Highly Recommended

"Javier came promptly and did an excellent job on our garbage disposal and toilet. Highly recommended."

- Mary U.