About Fast & Reliable Plumbing Services
About Big Blue Plumbing
24-Hour Plumbers in Oakland & Alameda
Founded in 2000, Big Blue Plumbing operates by the core values of professionalism, integrity, fun, and community. It is our daily mission to provide you with the highest quality products and craftsmanship and to exceed your expectations of how respectful, efficient, and reliable a plumber can be. With friendly, highly-trained plumbers, years of experience, and a guaranteed commitment to customer satisfaction, we are here to fulfill all of your plumbing needs. From minor repairs to extensive installation projects, our Oakland plumbers handle it all.
To schedule a service or to request more information, give us a call today at (510) 939-7870.
About Our Founder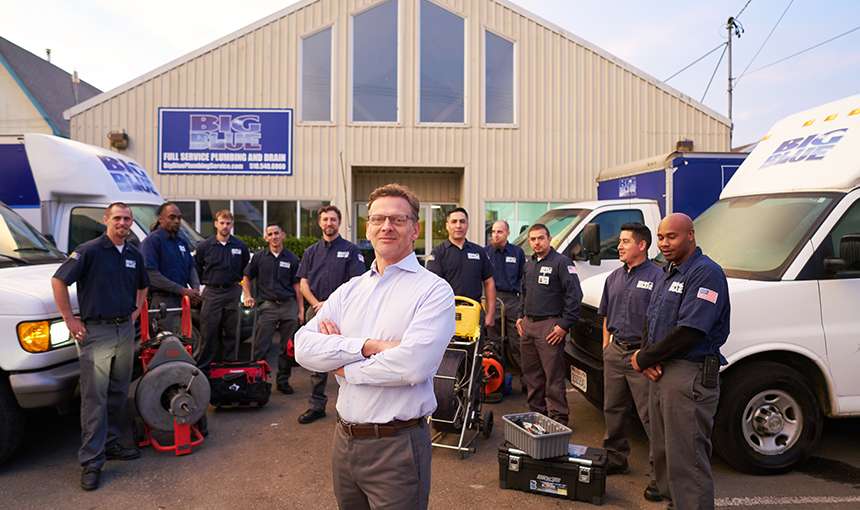 Paul Gerrard, our founder and CEO, began studying plumbing in England in 1985. He completed a London Institute City and Guilds apprenticeship in plumbing and hydronic heating before moving to the United States in 1996. He has owned his own plumbing company since 2000 and is committed to continually delivering outstanding customer service to each and every home and business his company comes in contact with.
About Our Technicians
At Big Blue Plumbing, we believe that how you do one thing is how you do all things, and to that end, integrity permeates all we do. All of our technicians carry the Tech Seal Of Safety, which means they are background checked and drug tested and that they have been through our customer service training program before they are allowed into your home. It is not by accident that one of the most common compliments we receive about our team members is how nice they are.
Each of our technicians has a thorough understanding of everything plumbing related, including:
About Our Process & Pricing
Our technicians are trained to thoroughly diagnose plumbing issues to determine not just what is happening, but why it is happening so that we can provide permanent solutions. There are normally multiple ways to provide that solution, so we always present all the options to you with up-front, straight-forward pricing so you will know, to the penny, what your investment will be. We understand that you do not like surprises. All of our work comes with a 100% satisfaction guarantee, so if you are not satisfied, you do not pay for the service.
We Go Above & Beyond
Our professionalism shines through in all we do. It starts with our daily training, where we share knowledge of plumbing with each other and from industry professionals. Our customer care team exhibits professionalism with our cheery greeting, "How can we make you smile?", and the text notification our clients receive with a picture of their technician and updates on his arrival time. Professionalism continues when the technician arrives at the home, puts the Big Blue floor protectors on their feet, and performs a thorough evaluation to ensure they are fully diagnosing the issue and presenting solutions.
The Big Blue Family has fun at work. We enjoy each others' company and we enjoy the clients that we work for. Our commitment to the community around us includes our Beach Clean Up days, raising money for local charities, such as the Berkeley High School Best Buddies organization and the Surfrider Foundation.
Service Guarantees: If you aren't completely satisfied with the service we provide, Big Blue Plumbing will refund any money you paid us for the service. Our service guarantees are extensive and help insure that working with us is the greatest possible experience.
Water Heater Guarantees: Our Alameda plumbing company stands firmly behind all of our installations, so if your water heater fails, we will not only fix it for free, but we will also give you $100 in vouchers toward future service. Read more about our No-Aggravation Service Guarantee and how the Big Blue Difference can make life easier for you.
No-Clog Guarantees: In the unlikely event of a stoppage in your main sewer line or any of our other installations, we will inspect the line at no cost to you. Choose Big Blue Plumbing and benefit from our amazing service guarantees.
Google Guarantee: Big Blue Plumbing is Google Guaranteed. What that means is if you are dissatisfied with the quality of our work, Google will cover claims up to the job invoice amount of $2000. We have taken extra steps to attain this level with Google. Google performs a complete background check of all employees, verifies our California state contractor license, and checks insurance/bond information. This is to ensure that when you search on Google for a plumber, you are going to find a legitimate one. Here at Big Blue, we take pride in our work, our ethics, and ensuring that you the customer are satisfied! It's great that Google shares the same vision.
Reach out to us today to schedule your next plumbing service. We proudly serve Oakland, Alameda, and the surrounding areas.
Providing the Highest Standard Every Time
Call Us 24 Hours A Day

Best Guarantees & Warranties

Service All Makes & Models

Always Punctual

Team of Certified Plumbing Experts

No Overtime Charges

Full Home Plumbing Inspection
I had an emergency plumbing issue, Big Blue was there in 15 min. and he did some good darn magic.

"Giovanni was awesome. I had an emergency plumbing issue, Big Blue was there in 15 min. and he did some good darn magic. Thank you!"

- Mark W.

Protects Property

"Very professional, hard worker took the time to protect my property"

- Richard B.

Jack did an excellent job.

"Jack did an excellent job. Came in assess the problem, explained it to me clearly and complete the job in a professional manner. Great representative for Big Blue"

- Bruce B.

Nick from Big Blue diagnosed the problem and ordered the replacement part in no time.

"Very knowledgeable and ordered the replacement part quickly so my tenant can have heat once again. Called a bunch of different companies but none of them work on hydronic air handlers. Highly recommend them for hydronic heating"

- Robert C.

Highly Recommended

"Javier came promptly and did an excellent job on our garbage disposal and toilet. Highly recommended."

- Mary U.
Request An Inspection & Estimate