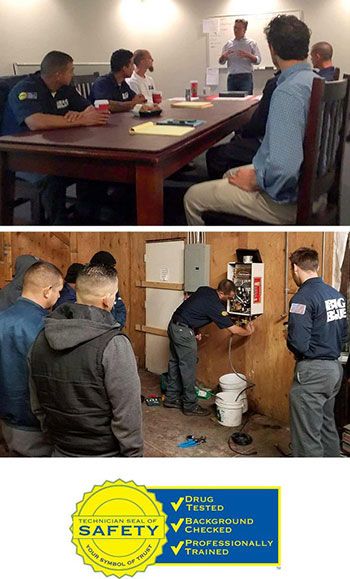 At Big Blue Plumbing we hold our products, service, and employees to the highest standards. That is why all Big Blue plumbers carry the Technician Seal of Safety—this designates that the technician working for you has passed a background check and drug test, and was professionally trained.
We are committed to ongoing technician training so that you never feel uneasy allowing a Big Blue Plumbing tech into your home. Twice a week we train our techs in personal and professional development. We also provide in-house three day training programs and even send our techs to training programs across the country. These trainings cover everything from customer service best practices to how to repair hydronic heating systems.
Why do we care so much? Because thorough, ongoing training…
1. Ensures our customer experience is of the highest standard.
2. Establishes reliable, consistently great service, no matter which technician is assigned the job.
3. Reinforces our company standards, policies, and culture.
4. Allows our technicians to develop personally and professionally so that they feel valued in their profession.
This last part is key. Retaining a high quality workforce in a competitive market can be difficult. But our commitment to training skilled technicians who we can all appreciate and trust ensures Big Blue will always employ the best of the best. At Big Blue Plumbing, your satisfaction is our guarantee.